The heart of all BRAINSALT video servers. Either as Standalone instance, as Controller or Timecode Player in a cluster, Playmaker makes sure your show is running and pixels are played perfectly to the screen. Support for most common movie and audio formats is integrated. BRAINSALT's uncompressed formats guarantee pixel perfect playback.
Playmaker was developed for guaranteeing perfect, smooth linear playback of multiple, absolutely synchronous running video channels. To assure jerk free playback, Playmaker takes care of adjusting the video cards output refresh rate to fit to the movies framerate for every video in the playlist. It also takes care about pixel synchrony for perfect 3D playback. It supports a wide range of common video and audio codecs and its unique, uncompressed frames playlists.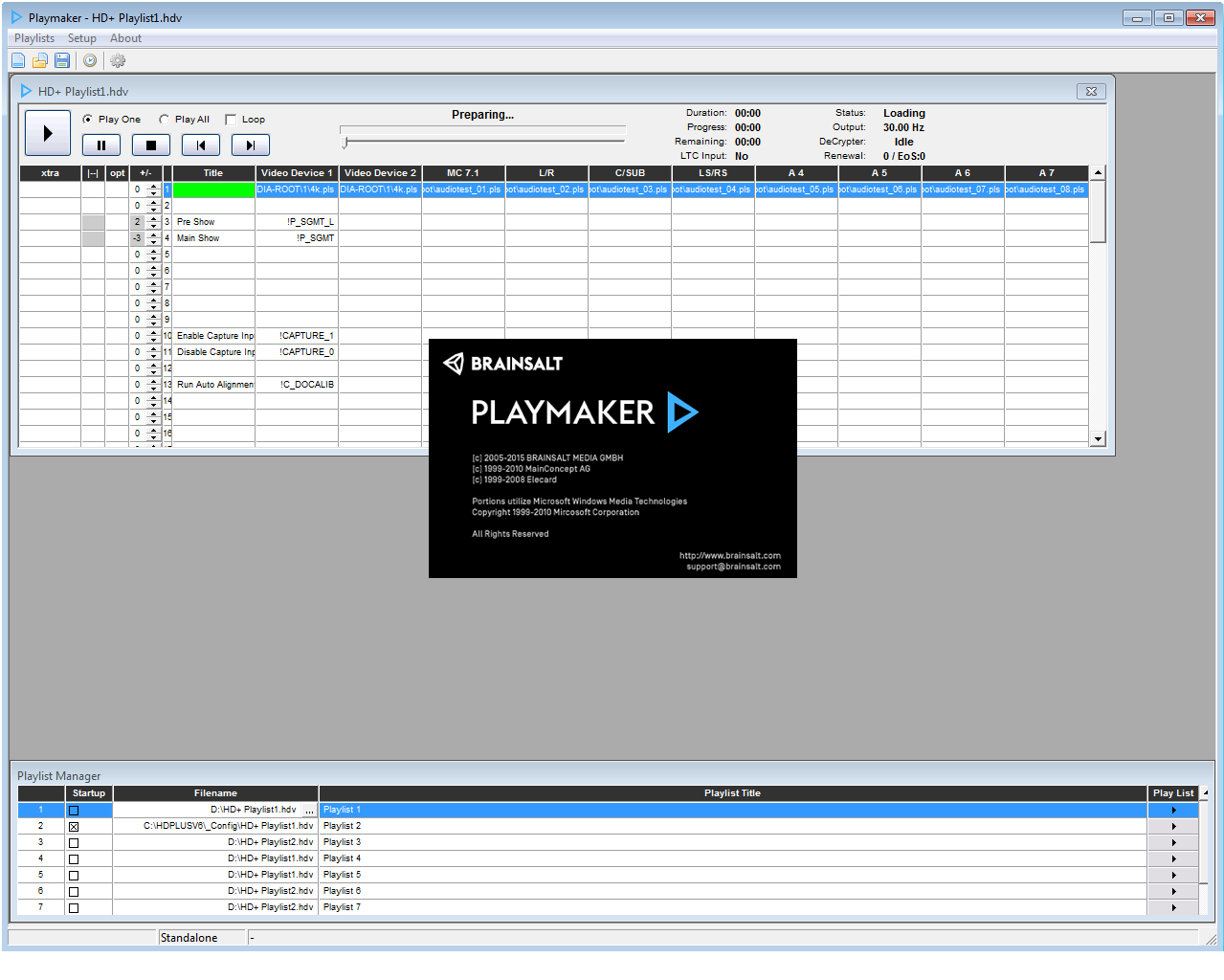 Its easy to use graphical user interface lets you manage playlists with 2D and 3D videos, audio files and effect files for each entry. Audio volume of each video can be adjusted in the playlist - individually for every audio channel with certain audio hardware . It supports different playback modes: all entries in a playlist are either played one after another or only one at a time with the option to loop playback. Scripting commands allow non sequential jumps within the playlist and other features.
Show and Effect Integration
When combined with BRAINSALT's Conductor, an effect files can be assigned to each playlist entry and will be automatically loaded on start of video. During normal playback, Playmaker controls playback progress of Conductor to assure perfect synchronous playback of video and effects. During show programming, Conductor controls Playmakers playback position thus making it easy and comfortable to program effects synchronous to video: any drag on the locator in Conductor will automatically cause an update of playback position within the video.

Image Warping, Edge Blending, Image Enhancement
You can easily adjust warping by editing control points of a spline-based warping mesh or modify every single point of the warping grid manually. Lanczos filtering is used to assure best quality of warped images. The blending curve can be adjusted by gamma for each color – just bring your blending edges parallel with warping and apply the blend mask. In addition, Playmaker can do image enhancements like sharpening, saturation, brightness and contrast.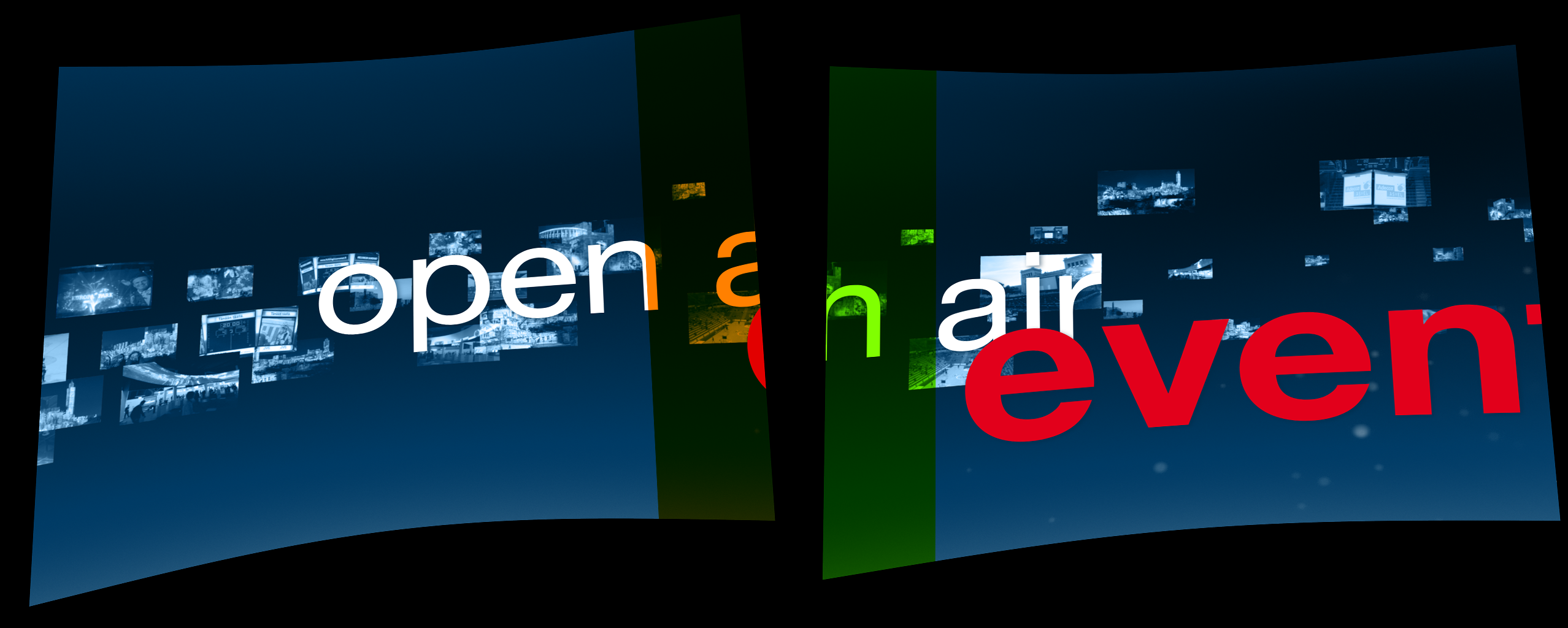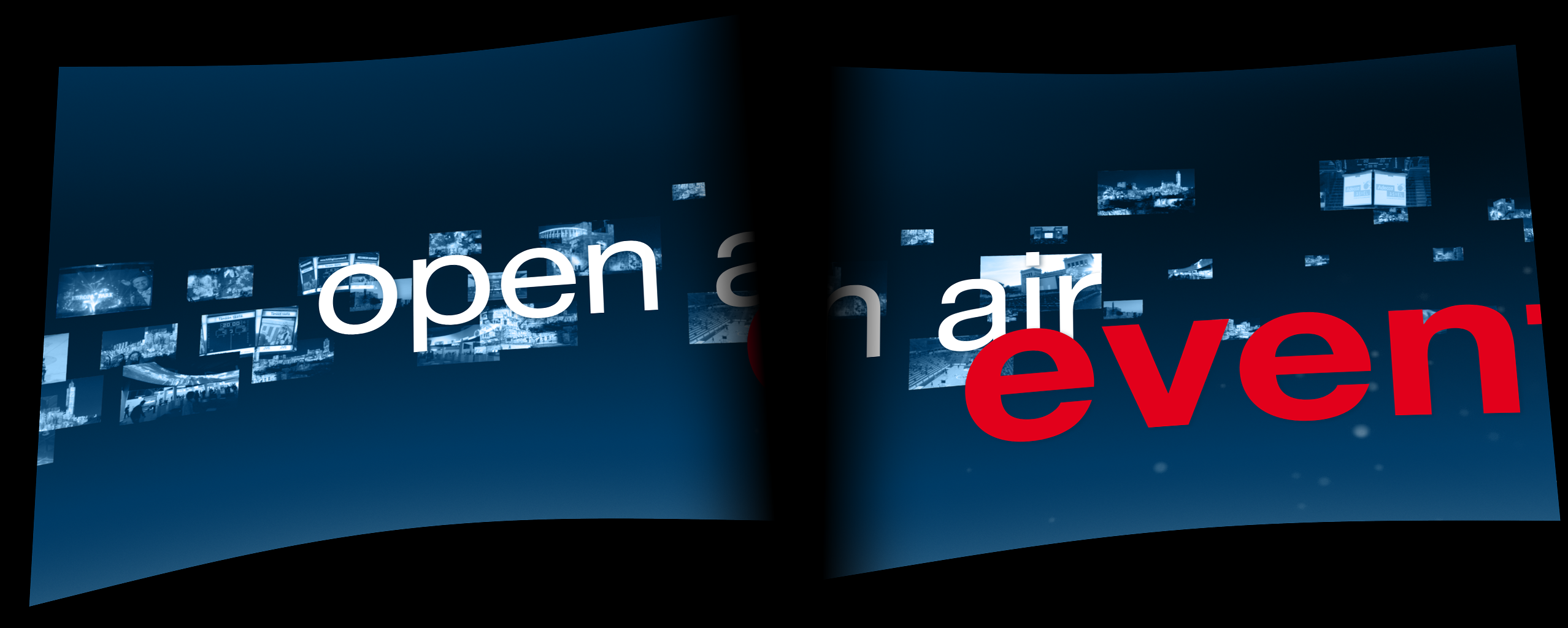 As alternative to manual warping and blending you can optionally use BRAINSALT's camera based auto alignment software Calibrator to generate warp and blend files – Playmaker will automatically load it and map video in the playlist correspondingly.
Standalone, Controller or TC Player  
A single server will use Playmaker in standalone operation mode. When having multiple servers in a playback cluster, there is usually a central unit that manages operation, the Controller and a number of timecode synced players, the TC Players. The Controller is used to manage playlist and media. It synchronizes playlists and media on all TC players in the cluster by a click on a button. During playback the controller outputs audio and timecode to perfectly synchronize all TC player in the cluster. Furthermore the Controller provides detailed information about quality of service of each playback channel in the cluster.
Integration and Scheduler
Playmaker implements an UDP and RS232 based remote control. Direct integration into Crestron® based media control environment with the network based Crestron CNX interface is possible. With the built-in scheduler you can define playback dates and times for your playlists.
Movie Licensing System
Playmaker implements a proprietary licensing system for copy protected contents. It allows content creators to distribute their movies with a strong encryption and grant playback of the movies on specific servers for a certain durations. The licenses are transferred over the internet with one of the safest authentication and encryption methods currently available. A lot of well-known 3D and 4D movie creators are using our movie licensing system.